About Mona Wind
In 1993 my father died and at that very moment I could sense him leaving the planet. I was in school in America while he was in Asia. For months after his death he would visit me in my dreams and I would feel his presence around me as a guide. His messages were mostly about a man I would meet. Within 4 months I met my husband over the internet. He was in Denmark, I was in Pennsylvania in college.
When I visited my husband's family in Denmark I saw a painting of myself as a little girl. I asked his mother why she'd painted a little brown girl. She answered that she was inspired by a chocolate box and didn't know why she wanted to paint the picture. I found it interesting that she painted me at the age of 4. I joke with my huband that he didn't have a chance growing up with a painting of me!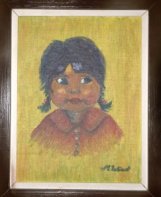 It was such an extraordinary coincidence that it made me wonder about soul contracts, guides etc. Did we decide on certain things before we came? Soul friends, contracts, etc?
It wasn't till 10 years after my fathers passing that I chose to understand me. Well the truth is that I felt so unhappy inside and decided that whatever it took I would clear and heal the pain. I also wanted to find others just like me, my community.
I read hundreds of books, took classes to just understand. When I read about the enlightened ones, they already had the answers. Everything I knew was random with no real process and procedure. Just raw information and downloads. It all came together with some great teachers like Dr. David Hawkins, Eckhart Tolle, Krishnamurthy, Linda Howe, Edgar Cayce, Carolyn Myss, Anodea Judith, Gary Douglas, Dain Heer, Arlen Bock etc.
The great part of the journey is that I learned so many forms of energy work that I could integrate it into my sessions. I LOVE clearing blocks, hurdles, issues and can pinpoint where the pattern started, this lifetime or another. I also love creating greater possibilities and inspiring you. By the way, if you work with me no two sessions are the same. I ask YOUR BEING what it requires from me and use all the tools, trainings and knowledge that I have to facilitate it.
Looking into the future is not my interest or desire. My sense is that it takes away power from you and locks you into something that might not be good for your soul. I would rather support you in getting rid of what's stopping you and creating a new life that makes you feel empowered and a creator. If you'd like a psychic reading I would suggest you work with someone else.
Some of the things I am trained in and use in my sessions, Reiki Master, Hypnotist (past life regression), EFT Practitioner, Tibetan and Crystal Singing Bowl Practitioner, Ancient Bon Lineage student, Shamanic practices, IET (Integrated Energy Therapy), Theta Healing, Access Consciousness Facilitator and Vortex Healing Practitioner.
Best wishes on your journey,
Mona Wind